How To Tell Your Boss You're Overextended Without Hurting Your Career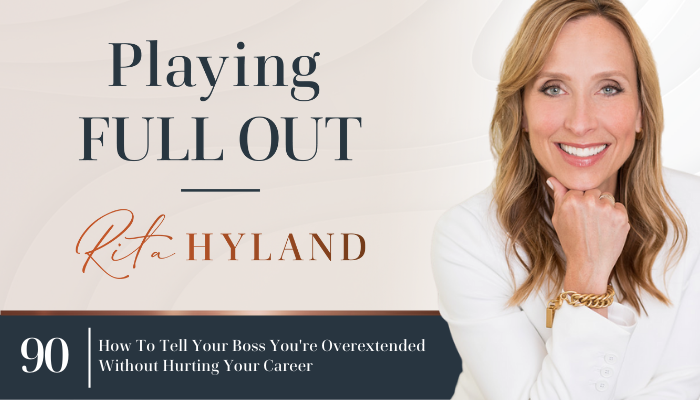 Listen to the full podcast episode to hear how to tell your boss you're overextended:
How do I tell my boss that I'm burnt out without jeopardizing my career? 
This is a question that I've been getting a lot of lately. It seems to be a hot topic for both employees and managers, and for good reason. Employees across all industries are overextended and feeling burnt out in the workplace. If you're feeling this way, maybe you've even tried to fix the problem but haven't found a successful solution long term. 
What I've noticed about driven leaders like you is that your strength and success are a blessing and a curse. You have a high threshold for pain, meaning that you are used to being overextended and rarely admit that the weight of all the demands at work and in life are getting to be too much. 
The rising workload only continues to rise and if you're like many there's a good chance you're wearing far too many hats and have taken on the responsibilities of too many. You've pushed yourself too far for too long, and it's neither realistic nor sustainable. 
At this point, you may even be considering the option of burning it all down and quitting. 
Hold on. There's a step before leaving that you can and should take, and that is to have a candid and constructive conversation with your boss. The chance of things changing for the better is higher than you think, and it is possible to position yourself to build the work and life that you want without compromising your well-being any longer. Consider that not having the conversation is actually irresponsible.   
I'm going to share exactly how to approach this conversation with your boss without destroying everything that you have worked so hard for. I'll even give you the exact words that you can say. The goal of this conversation is to share that you need a change to the current way things are being done. And most good bosses are going to want to help.
If you are a boss, this episode applies to you as well. You know that your employee's well-being is directly tied to the business outcomes. When employees start sacrificing themselves to produce business results, the business is going to ultimately see it in their bottom lines sooner than later. That's just a fact. 
Once someone is burnt out, productivity and performance drop substantially, and then the chances that your key player is going to seek to leave are dramatically increased too. Checking in on your employees before they reach this level will help to avoid high turnover and increase overall happiness and productivity in the workplace. 
When employees voice that the workload has become too much, and when bosses schedule regular conversations with their direct reports, all parties benefit. This collaboration supports employees to thoughtfully and confidently maintain healthy well-being and increase business outcomes.
In this episode I share:
The two things you must know when it comes to burnout in the workplace

The critical first step in the process to escape burnout

How to know when it's time for you to tell your boss you're overextended, 

How to position the conversation so that you're heard and get what you need

What to expect your boss' reaction when you have this conversation 

Why the Hero Complex thinking is not serving you or the people around you

Research-backed tips if you are the boss on the receiving end of a direct report's burnout conversation, and how you can avoid this problem in the first place
More Resources:
Subscribe on Apple Podcasts for more tips, tools, and inspiration to leading the optimal vision of your life, love, and leadership. Remember, a half version of you is not enough. The world needs the fullest version of you at play.

___
About Rita Hyland
With over 20 years of experience as an executive and leadership coach, Rita helps leaders — emerging and established — excel in corporate and entrepreneurial environments.
Rita believes if leaders were more clear about how transformation really works and more intentional about creating what they want, their impact, success, and influence in the world would be unstoppable.
Through her coaching programs, private coaching, and masterminds, Rita shows leaders how to win consistently and create the impact and legacy they desire.
Central to Rita's work is the understanding that you will never outperform your current programming, no matter how strong your willpower.
When you learn to use Rita's proprietary Neuroleadership Growth Code, a technology which uses the best of neuroscience and transformational psychology to hit the brain's buttons for change, YOU become both the solution and the strategy.
Her mission is to end talented, hard-working, and self-aware leaders spending another day stuck in self-doubt or confusion and not contributing their brilliant work and talent the world so desperately needs.
https://www.ritahyland.com/wp-content/uploads/2022/02/RH-Podcast-Featured-Graphics-90.png
464
440
Candace Maree
https://www.ritahyland.com/wp-content/uploads/2020/04/Rita-Hyland-1-line-blue-NOTAG-01.svg
Candace Maree
2022-02-10 05:00:24
2023-01-21 16:03:36
How To Tell Your Boss You're Overextended Without Hurting Your Career