How to Nurture Your Team During a Period of Epic Burnout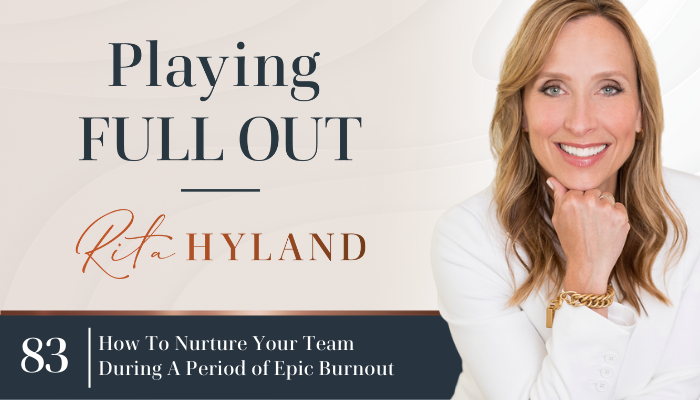 You can listen to the full podcast episode here:
A 2021 survey reported that nearly 90% of workers experienced burnout in the past year. In addition, more than half of people surveyed said that their workloads had actually increased during the pandemic. Clearly a work-life balance is not being achieved, and what we're doing in the workforce is not working.
The big question is, what can you do as the leader of your team to ensure that your people are being taken care of? Taking the time and mental space to consider this question is important, because one thing is for certain. The data shows that employees are leaving their workplace at record numbers and either seeking out employers who better meet their lifestyle needs and desires or leaving the workforce altogether.
As a leader, it is your job to make sure that your team feels respected and recognized, and that they are given opportunities to excel at what they do. As the saying goes, if you don't invest in the root, you won't receive or produce the fruit. The same goes for your team. You have to nurture and invest in them. Take every opportunity to let your team know that they matter. When your people feel like they are genuinely seen and encouraged, they will be inspired to do great work. If you commit to this approach of leading from the heart, you just may find it to be the best investment you will ever make in your business.
In this episode I share:
A personal story of the moment I felt seen in a new and important way 

5 concrete steps you can take to build a culture and team that feels like they belong

What the data shows about burnout and employees leaving the workforce

A reminder to check in on yourself to determine if you are nurturing and investing in your team
More Resources:
Subscribe on Apple Podcasts for more tips, tools, and inspiration to leading the optimal vision of your life, love, and leadership. Remember, a half version of you is not enough. The world needs the fullest version of you at play.

___
About Rita Hyland
With over 20 years of experience as an executive and leadership coach, Rita helps leaders — emerging and established — excel in corporate and entrepreneurial environments.
Rita believes if leaders were more clear about how transformation really works and more intentional about creating what they want, their impact, success, and influence in the world would be unstoppable.
Through her coaching programs, private coaching, and masterminds, Rita shows leaders how to win consistently and create the impact and legacy they desire.
Central to Rita's work is the understanding that you will never outperform your current programming, no matter how strong your willpower.
When you learn to use Rita's proprietary Neuroleadership Growth Code, a technology which uses the best of neuroscience and transformational psychology to hit the brain's buttons for change, YOU become both the solution and the strategy.
Her mission is to end talented, hard-working, and self-aware leaders spending another day stuck in self-doubt or confusion and not contributing their brilliant work and talent the world so desperately needs.
https://www.ritahyland.com/wp-content/uploads/2021/10/RH-Podcast-Featured-Graphics-83.png
464
440
Candace Maree
https://www.ritahyland.com/wp-content/uploads/2020/04/Rita-Hyland-1-line-blue-NOTAG-01.svg
Candace Maree
2021-10-14 05:00:32
2023-01-22 14:32:05
How to Nurture Your Team During a Period of Epic Burnout