Five Questions To Cultivate Your Team's Happiness As Well As Your Own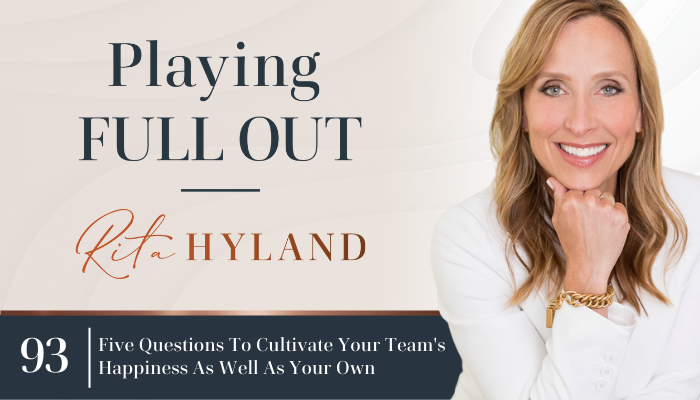 Listen to the full podcast episode to hear how to cultivate your team's happiness as well as your own:
13 years ago, I saw Tony Robbins speak at a conference. I recall him saying something that really stuck with me.
He said that the quality of your life will be determined by the quality of the questions you ask yourself.
At the time of this conference, this question caught my attention and I thought it was an interesting one. While it stayed in the back of my mind, I didn't fully appreciate the truth in his statement until years later.
Today, I can say with confidence that the quality of the questions you ask yourself, and others, is everything to your business, leadership, and even your parenting. I now use questions all day, every day, in my work to empower people to see solutions to problems they hadn't seen before. 
Think about how you're feeling in the present. In this shaken and noisy world we're in right now, many describe feeling unproductive, unsettled, and even unhappy, not totally knowing the reason why. 
When we as leaders have these kinds of feelings, that negative energy quickly and easily transfers to those we lead.
This is where the power of empowering questions comes into play massively.  I'm going to provide you with a handful of questions that you can use individually or with your team to empower them to rise to higher levels of decision-making, productivity, and happiness almost instantly.   
These questions are guaranteed to change perspective. And we know that when we change perspectives, that's where the real change ultimately begins.
Finally, I invite you to tune into our next episode where I will be interviewing Peter Docker, author of the book Leading from the Jump Seat. It's a fantastic read, and I promise it will be an interview you won't want to miss.
In this episode on how to cultivate your team's happiness, I share:
How our unhappiness and low vibration easily transfer to those we lead

A powerful and simple secret to cultivating your team's happiness, as well as your own

5 game-changing questions that will help you turn around some of the common workplace problems (as well as your own) 

The one thing to ask when you know you need to redirect yourself or others and time matters. 
More Resources:
Subscribe on Apple Podcasts for more tips, tools, and inspiration to leading the optimal vision of your life, love, and leadership. Remember, a half version of you is not enough. The world needs the fullest version of you at play.

___
About Rita Hyland
With over 20 years of experience as an executive and leadership coach, Rita helps leaders — emerging and established — excel in corporate and entrepreneurial environments.
Rita believes if leaders were more clear about how transformation really works and more intentional about creating what they want, their impact, success, and influence in the world would be unstoppable.
Through her coaching programs, private coaching, and masterminds, Rita shows leaders how to win consistently and create the impact and legacy they desire.
Central to Rita's work is the understanding that you will never outperform your current programming, no matter how strong your willpower.
When you learn to use Rita's proprietary Neuroleadership Growth Code, a technology which uses the best of neuroscience and transformational psychology to hit the brain's buttons for change, YOU become both the solution and the strategy.
Her mission is to end talented, hard-working, and self-aware leaders spending another day stuck in self-doubt or confusion and not contributing their brilliant work and talent the world so desperately needs.
https://www.ritahyland.com/wp-content/uploads/2022/03/RH-Podcast-Featured-Graphics-93.png
464
440
Candace Maree
https://www.ritahyland.com/wp-content/uploads/2020/04/Rita-Hyland-1-line-blue-NOTAG-01.svg
Candace Maree
2022-03-24 05:00:35
2023-01-21 15:56:33
Five Questions To Cultivate Your Team's Happiness As Well As Your Own