Here's How We Can
Work
Together
Rita Hyland,
Transformational Coach
I Can Help You Unleash Your Greatest Impact.
When decisions can make or cost you greatly, you want to be clear-minded.
I coach entrepreneurs and corporate leaders to have their absolute clarity, calm and power to run their businesses successfully.
As a growth-minded and self-aware leader, having expert support to untangle your own thoughts and align with your true vision is an essential investment.
Driven change makers require expert support to stay on their A-game and consistently deliver results as their businesses and personal lives grow.
I help you to unleash an aligned vision and authentic voice that positively influences and amplifies your success.
As you know, we need purpose driven change-makers more than ever.
If that's you, I can help you so you can live out your mission, serve your clients, have more fun, and profit abundantly while you do.
Would you like my help to rise into your greatest leadership and impact?
Here's How We Can Work Together
I work with clients in three stages designed to help you make progress as quickly as possible.
Not sure which option is the best fit for you?
I will help you figure out what THE BEST fit for you is.
Playing Full Out™ is a podcast that helps entrepreneurs, emerging leaders, and other professionals take themselves and their careers to the next level. You'll find practical tips that will bring you from overworked and overwhelmed to confident and content. Episodes address topics like goal setting, reprogramming your brain, and finding the fastest path to the life you want. If you've been struggling to realize your full potential, you'll find all the actionable tips you'll need to play full out in your career and beyond.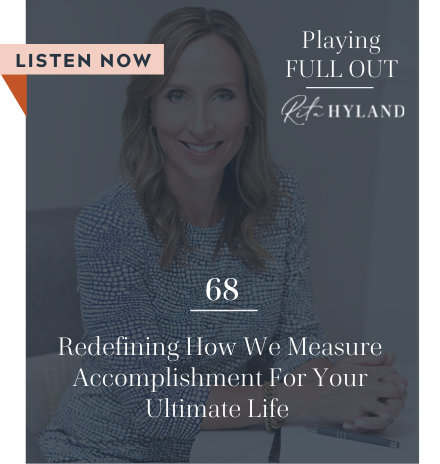 https://www.ritahyland.com/wp-content/uploads/2021/05/RH-Podcast-Featured-Graphics-68-1.png
464
440
Sara Whittaker
https://www.ritahyland.com/wp-content/uploads/2020/04/Rita-Hyland-1-line-blue-NOTAG-01.svg
Sara Whittaker
2021-05-13 06:00:58
2021-05-13 14:04:30
Redefining How We Measure Accomplishment For Your Ultimate Life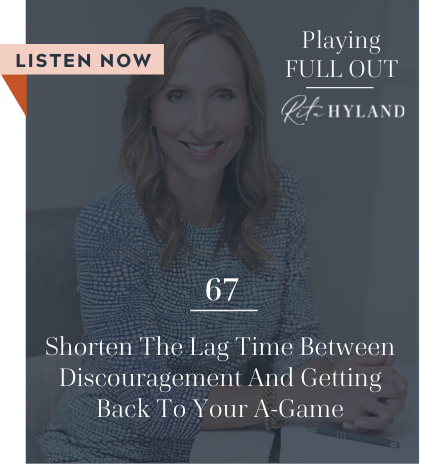 https://www.ritahyland.com/wp-content/uploads/2021/05/RH-Podcast-Featured-Graphics-67.png
464
440
Sara Whittaker
https://www.ritahyland.com/wp-content/uploads/2020/04/Rita-Hyland-1-line-blue-NOTAG-01.svg
Sara Whittaker
2021-05-07 05:00:48
2021-05-07 08:48:06
Shorten The Lag Time Between Discouragement And Getting Back To Your A-Game