It's Time To Rethink How We Approach Productivity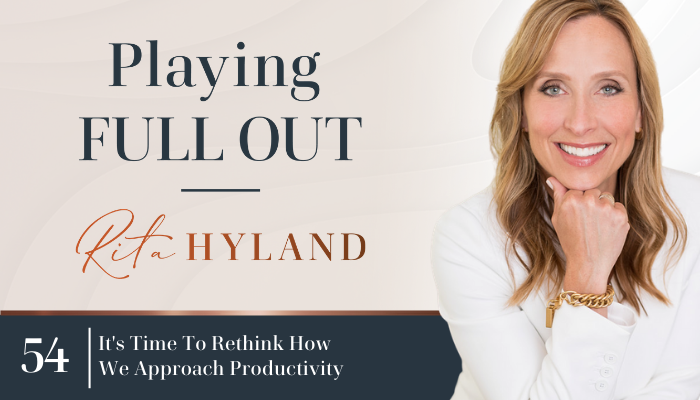 You can listen to the full podcast episode here:
Have you ever returned home from a trip and felt like a completely different person? That happened to me last week after a scenic and peaceful stay in Wyoming. It was a nice change of pace and I was reminded of the power of practicing silence, which inspired today's podcast episode. 
During this COVID era and working from home, our productivity has been challenged. This has a lot to do with the fact that there's absolutely no separation of home and work. In fact, data has shown that many people are actually working more than they were before. Our computers are quite literally at our fingertips all day, which makes it tempting to continue our work well past our usual hours. This is actually making us LESS productive. 
We don't often think about this, but silence is a crucial part of productivity.  Listening is a critical skill that we've lost along the way. We have a way of either undervaluing it or treating it like a luxury. It's time to make it a priority, and you can do that with three separate practices I share in today's episode. 
Rather than basing your productivity on how many tasks you can complete in one day, try measuring how much of the right work you get done. I'm talking about the creative work. The work that will lead you towards more joy.  Let's rethink productivity. It's time to think bigger, bolder, and smarter about your enjoyment of this beautiful life that's right in front of you.
In this episode, I share:
What happens when you value silence, trust yourself, and act on your instincts 

What is most often missed in our approach to productivity

The 3 questions to ask yourself while sitting in silence daily

A scientific way to access your brain's best answers to solve problems and allow for free-flowing thinking

Which of your four brain waves to use and how to do so that you access your greatest ideation and productivity state
Join the waitlist for the Bold Leader Life School here. You'll receive the first access to details when they are released!
More Resources:
Subscribe on Apple Podcasts for more tips, tools, and inspiration to leading the optimal vision of your life, love, and leadership. Remember, a half version of you is not enough. The world needs the fullest version of you at play.

___
About Rita Hyland
With over 20 years of experience as an executive and leadership coach, Rita helps leaders — emerging and established — excel in corporate and entrepreneurial environments.
Rita believes if leaders were more clear about how transformation really works and more intentional about creating what they want, their impact, success, and influence in the world would be unstoppable.
Through her coaching programs, private coaching, and masterminds, Rita shows leaders how to win consistently and create the impact and legacy they desire.
Central to Rita's work is the understanding that you will never outperform your current programming, no matter how strong your willpower.
When you learn to use Rita's proprietary Neuroleadership Growth Code, a technology which uses the best of neuroscience and transformational psychology to hit the brain's buttons for change, YOU become both the solution and the strategy.
Her mission is to end talented, hard-working, and self-aware leaders spending another day stuck in self-doubt or confusion and not contributing their brilliant work and talent the world so desperately needs.
https://www.ritahyland.com/wp-content/uploads/2021/02/RH-_-Podcast-Featured-Graphics-54.png
464
440
Candace Maree
https://www.ritahyland.com/wp-content/uploads/2020/04/Rita-Hyland-1-line-blue-NOTAG-01.svg
Candace Maree
2021-02-04 06:00:29
2021-02-04 06:59:08
It's Time To Rethink How We Approach Productivity