How To Cast An Irresistible Vision For 2021 Like The Pros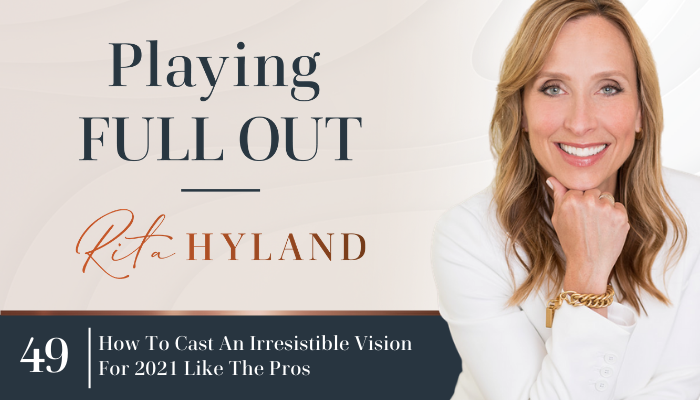 You can listen to the full podcast episode here:

I'll say it one more time for good measure: this time of year brings me so much joy! As we embark on a brand new year, people everywhere are taking a break to reset and imagine what's to come. It is the perfect time to craft a brand new inspirational vision that will set you up for success in 2021 and beyond. Consider this vision to be your own personal masterpiece.
Many put off getting their vision down on paper because they don't know what the future will hold, and the uncertainty can be unsettling. If you have resistance to getting your vision down, don't worry, I've got you covered! I'm sharing how to take the time to get your vision solidified. In fact, you can get started in less than one hour. If you complete this process, you will have a detailed picture of your work, your life, and your intentions for the next year.
Join me in preparing for and getting excited about a new beginning. Getting specific about your vision is the first step towards profound growth in your health, family, friendships, finances, and business. When you grow, you can't help but grow others around you. When you expand, you expand your business & impact.
In this episode, I share:
How to create an

aspirational growth vision

that lights you up

Important rules to follow before naming your vision in order to avoid future roadblocks

4 steps to get your vision down on paper and deliberately using it as a

daily guidepost

Why you must have a vision

before

determining your

goals
My two-minute morning ritual that will guide you to think your vision into being.
Join the waitlist for the Bold Leader Life School here. You'll receive the first access to details when they are released!
Resources:
Subscribe on Apple Podcasts for more tips, tools, and inspiration to leading the optimal vision of your life, love, and leadership. Remember, a half version of you is not enough. The world needs the fullest version of you at play.

___
About Rita Hyland
With over 20 years of experience as an executive and leadership coach, Rita helps leaders — emerging and established — excel in corporate and entrepreneurial environments.
Rita believes if leaders were more clear about how transformation really works and more intentional about creating what they want, their impact, success, and influence in the world would be unstoppable.
Through her coaching programs, private coaching, and masterminds, Rita shows leaders how to win consistently and create the impact and legacy they desire.
Central to Rita's work is the understanding that you will never outperform your current programming, no matter how strong your willpower.
When you learn to use Rita's proprietary Neuroleadership Growth Code, a technology which uses the best of neuroscience and transformational psychology to hit the brain's buttons for change, YOU become both the solution and the strategy.
Her mission is to end talented, hard-working, and self-aware leaders spending another day stuck in self-doubt or confusion and not contributing their brilliant work and talent the world so desperately needs.
https://www.ritahyland.com/wp-content/uploads/2020/12/RH-_-Podcast-Featured-Graphics-49.png
464
440
Candace Maree
https://www.ritahyland.com/wp-content/uploads/2020/04/Rita-Hyland-1-line-blue-NOTAG-01.svg
Candace Maree
2021-01-01 04:34:23
2021-01-01 04:34:23
How To Cast An Irresistible Vision For 2021 Like The Pros