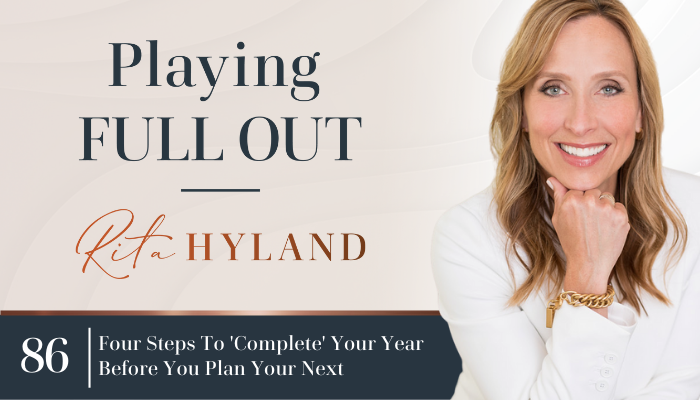 You can listen to the full podcast episode here:
We are in the homestretch of 2021. Can you believe it? That means soon we'll be flooded with messages of setting ambitious goals for the upcoming year. In fact, you may already be thinking about yours. Of course, it's important to create a vision for yourself as you prepare for the year ahead. After all, without a plan, we drift.
However, before you begin to set up your future, there's a crucial step that is too often overlooked, that is, we must first complete our current year. You probably know that if we don't take stock and learn from history, we repeat it, right? 
Imagine being aware of both the successes that you've had this year and the mistakes you've made along the way. When you rush into a new plan without this step of reflection and celebration, you're bound to recreate more of the same. 
To help you with this process, I have a tried and tested exercise that you can take and immediately incorporate into your planning for 2022. It's a method that has been responsible for increasing bottom lines, identifying high value work and improving relationships with oneself and others. When put in motion, you will position yourself for the experience you truly want for this coming year.
In this episode I share:
The simple yet significant four steps to take to complete your year

A walk through of what I've done to give reverence to the year

How to let go of any regrets or negativity that you've been harboring in 2021

Why you need to acknowledge your wins and losses from the past year, no matter how large or small
More Resources:
Subscribe on Apple Podcasts for more tips, tools, and inspiration to leading the optimal vision of your life, love, and leadership. Remember, a half version of you is not enough. The world needs the fullest version of you at play.

___
About Rita Hyland
With over 20 years of experience as an executive and leadership coach, Rita helps leaders — emerging and established — excel in corporate and entrepreneurial environments.
Rita believes if leaders were more clear about how transformation really works and more intentional about creating what they want, their impact, success, and influence in the world would be unstoppable.
Through her coaching programs, private coaching, and masterminds, Rita shows leaders how to win consistently and create the impact and legacy they desire.
Central to Rita's work is the understanding that you will never outperform your current programming, no matter how strong your willpower.
When you learn to use Rita's proprietary Neuroleadership Growth Code, a technology which uses the best of neuroscience and transformational psychology to hit the brain's buttons for change, YOU become both the solution and the strategy.
Her mission is to end talented, hard-working, and self-aware leaders spending another day stuck in self-doubt or confusion and not contributing their brilliant work and talent the world so desperately needs.
https://www.ritahyland.com/wp-content/uploads/2021/11/RH-Podcast-Featured-Graphics-85-1.png
464
440
Sara Whittaker
https://www.ritahyland.com/wp-content/uploads/2020/04/Rita-Hyland-1-line-blue-NOTAG-01.svg
Sara Whittaker
2021-11-25 05:00:53
2021-11-26 04:36:03
Four Steps To Complete Your Year Before You Plan Your Next