Why Who You Are Matters Just As Much As The Work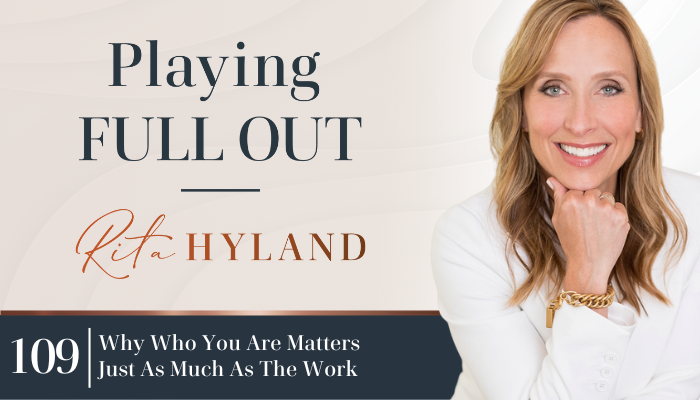 Listen to the full podcast episode to learn the 1 thing I wish someone had told me and 1 of the most common mistakes I often see being made by people in leadership, business, and entrepreneurship.
This week, during a podcast interview, I was asked, "What 3 things do you wish someone had told you?" It inspired me to share with you the most significant one and also the most uncomfortable one for me to relive and share publicly.
Early on in my career, I was hired to present a keynote for a product company. As I organized my thoughts on what I would include in my speech, I was hung up on something. There were thoughts and images of very well-known speakers who I'd seen do successful keynote speeches in the past and I began to compare myself to them. 
Since I had never given a presentation to this amount of people before, I was suffering from a bout of imposter syndrome. 
Looking back now, it makes me squirm thinking of how I approached that presentation. But, the issue didn't come from what I was speaking on or the words I chose to use. The real issue lied in who I was being as I presented.
Imposter syndrome led to self-doubt which pushed me towards attempting to mirror what I admired in other speakers. Now, there is some logic to this. We always hear "Success leaves clues. Watch what others are doing and repeat it." However, in this case, my attempt to mirror someone else completely overshadowed the most important thing: who I truly was. 
Each of us has the instinctive capability to sense a disconnect between who a person is behaving as and who they truly are. When this happens, we immediately lose trust in that person. 
Here's what I wish someone had told me: Who you are matters just as much as the work you do. People want you just as much as they want your strategy, your service, or your product. 
My coaching clients love working with me because there's a trust and knowing that they're going to receive the real, authentic me – transparency, imperfections, and all – as we work together. It seems simple enough, but it's actually one of the most uncommon things to experience. 
Being true to yourself, being who you really are takes time to fully grasp. It takes each of us a unique amount of time to fully realize it, choose to be vulnerable, and implement it. We must be intentional about being true to ourselves, especially as we grow and become leaders in our industry. As the number of eyes that are on us grows, the harder it can be to stay true to who you are. 
But it is so irresistibly attractive to be authentic because it is so uncommon. When you are able to truly be yourself, it easily shines through to others due to your humility and confidence. You don't need validation. You realize you are special and enough just as you are. 
The sooner you can realize, accept, and own that you are special, the sooner you can progress with helping those you are here to serve.
This will lead you to enjoy a greater deal of happiness. If you're ready to do so, here are 3 steps to guide you in getting there:
Set the intention to share yourself vulnerably, to not be so rigid in sharing who you are.

Pay attention to how you talk to yourself. Remember: words really do matter. 

When someone tells you that you're special, accept it, own it, and say "Thank you." Don't deflect or dismiss. 
What can you expect to happen? For me, I began to share more of who I am and it's led me to becoming a person more focused on how I can help others instead of concerning myself with what they will think of me. When I do this, I'm real and the experience is much more comfortable, authentic, and real for both parties. 
In this episode I share:
One of the most important things I wish someone had told me long ago

A practice to instantly defeat a bout of imposter syndrome when it strikes

A personal story recounting a cringeworthy time in my life where I wasn't authentic

The idea that people want YOU as much as they want your smarts, strategies, and solutions

Why becoming truly authentic requires some initial personal work
Resources and related episodes:
Join the Playing Full Out Newsletter to receive additional bonuses from each episode and get notified when new episodes release
Subscribe on Apple Podcasts for more tips, tools, and inspiration to lead the optimal vision of your life, love, and leadership. Remember, a half version of you is not enough. The world needs the fullest version of you at play.

___
About Rita Hyland
With over 20 years of experience as an executive and leadership coach, Rita helps leaders — emerging and established — excel in corporate and entrepreneurial environments.
Rita believes if leaders were more clear about how transformation really works and more intentional about creating what they want, their impact, success, and influence in the world would be unstoppable.
Through her coaching programs, private coaching, and masterminds, Rita shows leaders how to win consistently and create the impact and legacy they desire.
Central to Rita's work is the understanding that you will never outperform your current programming, no matter how strong your willpower.
When you learn to use Rita's proprietary Neuroleadership Growth Code, a technology that uses the best of neuroscience and transformational psychology to hit the brain's buttons for change, YOU become both the solution and the strategy.
Her mission is to end talented, hard-working, and self-aware leaders spending another day stuck in self-doubt or confusion and not contributing their brilliant work and talent the world so desperately needs.
https://www.ritahyland.com/wp-content/uploads/2022/12/why-who-you-are-matters-just-as-much-as-the-work-playing-full-out-rita-hyland-2.png
464
440
Guia Gorospe
https://www.ritahyland.com/wp-content/uploads/2020/04/Rita-Hyland-1-line-blue-NOTAG-01.svg
Guia Gorospe
2022-12-08 05:00:24
2022-12-20 18:32:12
Why Who You Are Matters Just As Much As The Work