The #1 Sign Your Relationship Will Last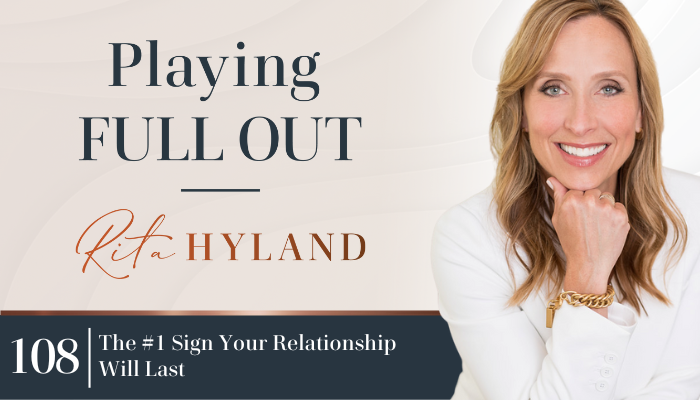 Listen to the full podcast episode to learn the 1 simple thing that will show if your relationship will last, what you need to do to improve the health and longevity of your relationship, and how to apply this same principle to ANY relationship you may be struggling with.
None of us have taken a class in life that tells us how to have healthy relationships, but most of us don't need much convincing that happy relationships are key to a successful life. Despite the importance of relationships to our overall well-being, happiness, and success, often we navigate through relationships on our own and learn as we go through a lot of trial and error. We don't really know how to tell if a relationship will last or how to make sure a relationship lasts longer.
Today, I want to clear that up for you by sharing the science found by two marriage and relationship experts that will help you understand what it really takes to make sure your relationship will last. The best part is this principle can also be applied to your relationships with coworkers, family members, and with anyone else you may connect with in life. 
Lately, several people have described the struggles they are experiencing in their relationships.
For some, the connection in their marriage has waned. For others, they aren't clicking with a fellow coworker. These experiences got me thinking of something extremely interesting that I learned years ago.
There are two psychologists – John and Julie Gottman – who, within 15 minutes of meeting a married couple, can predict if the couple will stay married or they will divorce… and with 94% accuracy. When I heard this, I thought it was crazy! I had to learn how they could figure this out.
John and Julie Gottman have determined that the outcome of a couple's relationship comes down to one simple factor: the balance of their positive and negative interactions. They call this principle The Magic Ratio (or P&R, the Positive-Negative Ratio). 
In The Magic Ratio, couples with a Positive-to-Negative ratio of 5:1 are likely to have a relationship that will last.
This means they have 5 positive interactions with one another for every negative interaction. This counters our common belief that we only need to have a 1:1 ratio when a positive interaction happens to resolve any negative one. Unfortunately, that's just not how science works.
Let's put this in perspective. Say you're having a bad day and you take it out on your spouse throughout the day: once at breakfast, once in mid-afternoon, and once around dinner. According to The Magic Ratio, you have to have 15 positive interactions to actually make up for those 3 negative interactions. Can you see the multiplying impact of having a bad week? 
If this science is true for romantic relationships, it can also be applied to other relationships in our lives. The Gottman's applied The Magic Ratio to predict marital success and there is more academic research conducted by Heapy and Losada that found that the average ratio for high-performing teams was 5.6:1, 2:1 for medium-performance teams, and -3:1 for low-performance teams. 
The Magic Ratio is such an easy way to gauge how your relationships are going and if you want stronger relationships, you know that your number of positive interactions needs to increase. 
This week, I challenge you to take notice.
Choose one relationship in your life and look at your Positive-to-Negative Ratio with that person. Notice how many positive and negative interactions you have with them within a week. Then, be intentional about increasing your positive interactions. All it takes is a little intentionality. 
I want to invite you to tune into this week's podcast episode as I take this topic even deeper to discuss the impact that negativity has on our interactions and the important role we each play in bringing a bit more positivity to this world. 
In this episode I share:
The #1 predictor of your relationship lasting or ending

Examples of how to use this principle in different types of relationships

What I believe to be each of our responsibility to the collective frequency
Resources and related episodes:
Join the Playing Full Out Newsletter to receive additional bonuses from each episode and get notified when new episodes release
Subscribe on Apple Podcasts for more tips, tools, and inspiration to lead the optimal vision of your life, love, and leadership. Remember, a half version of you is not enough. The world needs the fullest version of you at play.

___
About Rita Hyland
With over 20 years of experience as an executive and leadership coach, Rita helps leaders — emerging and established — excel in corporate and entrepreneurial environments.
Rita believes if leaders were more clear about how transformation really works and more intentional about creating what they want, their impact, success, and influence in the world would be unstoppable.
Through her coaching programs, private coaching, and masterminds, Rita shows leaders how to win consistently and create the impact and legacy they desire.
Central to Rita's work is the understanding that you will never outperform your current programming, no matter how strong your willpower.
When you learn to use Rita's proprietary Neuroleadership Growth Code, a technology that uses the best of neuroscience and transformational psychology to hit the brain's buttons for change, YOU become both the solution and the strategy.
Her mission is to end talented, hard-working, and self-aware leaders spending another day stuck in self-doubt or confusion and not contributing their brilliant work and talent the world so desperately needs.
https://www.ritahyland.com/wp-content/uploads/2022/11/RH-Podcast-Featured-Graphics-108.png
464
440
Guia Gorospe
https://www.ritahyland.com/wp-content/uploads/2020/04/Rita-Hyland-1-line-blue-NOTAG-01.svg
Guia Gorospe
2022-11-24 05:00:00
2022-11-27 13:22:44
The #1 Sign Your Relationship Will Last