Reviewing the Year Before Moving On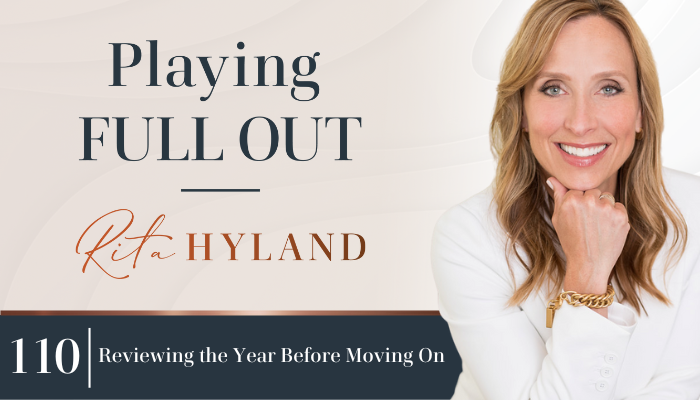 Listen to the full podcast episode to learn the simple practice to review the year that can help you grow in every area of your life.
What I am profoundly aware of is that there have been many times in my life when I have – in the simplest terms – been wrong. 
For the longest time, I believed that I would hit a certain age and magically everything that I wanted would happen. For years, I believed that it would all just come together and I judged myself when it didn't. 
I now realize that is not the truth – that wisdom doesn't just arrive based on time, age, or even some external situation, but it requires deliberate actions to learn and grow.
I realized that my thoughts on success were all wrong – success is an inside-outside job. The most successful people are those that feel good in their skin, have humility and confidence, forgive themselves, and have the awareness to reevaluate their lives. 
And that last one is what I am discussing today.
Reevaluation is absolutely necessary as our old ways are not always our best ways. Without reevaluation, we make things a lot harder on ourselves as we continue to repeat things we're unconscious that we're doing. Conversely, there are also our achievements, our successes, and our positive habits that deserve and require our acknowledgment.
So, at a time like the end of the year when there is a collective pause, it's important to step back, review what worked in the past year and what didn't work well, and consciously identify what it is we want to carry with us into the new year. 
To help myself and my clients do so, I implement a simple practice I call Catch & Release each year. The practice will help you know exactly what it is you want to take with you into the year ahead, what you want to let go of and why. Let's get into it.
Celebrate your wins and accomplishments

My suggestion during this step is to grab your calendar and go week by week reviewing gatherings you've had with family and friends, projects you accomplished at work, improvements to your house, and any other experiences you have had in the past year. This is very helpful because, if you're like me, you may forget all the great moments you've experienced. 

Acknowledge your mistakes and challenges with grace

Just as we have reviewed our wins, we want to also take a moment to review our mistakes or difficult moments of the year. These may be goals you didn't reach, projects you didn't finish, or something that didn't go as planned. Although these can be difficult to look at, they may actually become gold for you in designing the year ahead.

Identify insights from both lists

Once you've made these two lists, go through them noting next to each what insight or lesson has come from that experience. Nothing happens without a purpose, so ask yourself, "What did I learn from this?" It may have been to ask for more help or for what you want, to delegate and let go of more, or to set bigger boundaries. Look at the themes you can notice with each win and setback. 

Forgive someone or yourself

Forgiveness allows us to make space for other things to enter. When we're holding grudges or judges, they retain and take energy which depletes us of the fuel for other great endeavors and dreams. What is it that you need to forgive and release so you can welcome something wonderful and extraordinary?

Ask "What do I need to say goodbye to?"

Maybe you're ready to say goodbye to a relationship that isn't serving you or to pleasing someone that's too difficult to please and you've realized that's no longer your responsibility. Being conscious of what you need to say goodbye to allows you to take the next step toward what you'd like to have.
Once you've gone through the Catch & Release practice, you can create your master list listing what you're going to "catch" on the left side and what you will release on the right. As an added bonus, cut off the Release side and burn it. Perform a ceremonial goodbye and officially release those things from your life entirely. 
Once you do this, you will find more freedom to design and pursue your ultimate future.
Before you sign off on the past year, thank it for everything: the positives and the messiness. Express gratitude. Each year is another opportunity to expand ourselves.  
There is much to come in the year ahead!
Your Call to Action this week is to give yourself the gift of a break to recharge.
Take this opportunity to rest and review the past year before you move into the year ahead. The pause is a requirement to reenter the game of life with strength. 
In this episode I share:
My go-to 5-step practice for reviewing the year or evaluating the end of any significant cycle to ensure growth and success in the upcoming year

Personal lessons I've learned in life that only came from a practice of reevaluating  

How this practice has impacted both my life and the lives of my clients over the years
Resources and related episodes:
Join the Playing Full Out Newsletter to receive additional bonuses from each episode and get notified when new episodes release
Subscribe on Apple Podcasts for more tips, tools, and inspiration to lead the optimal vision of your life, love, and leadership. Remember, a half version of you is not enough. The world needs the fullest version of you at play.

___
About Rita Hyland
With over 20 years of experience as an executive and leadership coach, Rita helps leaders — emerging and established — excel in corporate and entrepreneurial environments.
Rita believes if leaders were more clear about how transformation really works and more intentional about creating what they want, their impact, success, and influence in the world would be unstoppable.
Through her coaching programs, private coaching, and masterminds, Rita shows leaders how to win consistently and create the impact and legacy they desire.
Central to Rita's work is the understanding that you will never outperform your current programming, no matter how strong your willpower.
When you learn to use Rita's proprietary Neuroleadership Growth Code, a technology that uses the best of neuroscience and transformational psychology to hit the brain's buttons for change, YOU become both the solution and the strategy.
Her mission is to end talented, hard-working, and self-aware leaders spending another day stuck in self-doubt or confusion and not contributing their brilliant work and talent the world so desperately needs.
https://www.ritahyland.com/wp-content/uploads/2022/12/reviewing-the-year-before-moving-on-playing-full-out-rita-hyland-2.png
464
440
Guia Gorospe
https://www.ritahyland.com/wp-content/uploads/2020/04/Rita-Hyland-1-line-blue-NOTAG-01.svg
Guia Gorospe
2022-12-22 05:00:27
2023-01-14 02:28:36
Reviewing the Year Before Moving On