Maintaining A Calm Inner State When the World Around You Is Not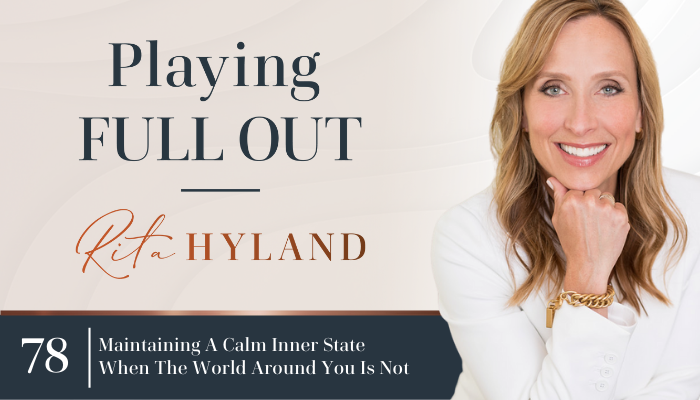 You can listen to the full podcast episode here:
Do you have trouble turning your mind off? When you wake up in the morning, does your brain instantly begin racing as it considers all that needs to get done that day? If the answer is yes, then you are beginning your day like so many others.  It's in a state of disturbance — not calm — as the anxious thinking begins the second your alarm goes off. It's no way to live, and yet it's the norm for society. 
We are living in a time where stress and burnout are more common than not. We're busy and that is costing us connection with ourselves and those we are here to love and serve. Even in the more quiet moments, it's challenging to be still and enjoy the peace and ease. 
So, if you're feeling like you just can't slow down, I have something for you. Your solution lies in the ability to cultivate and maintain an inner calmness. It's a superpower, a bona fide magic pill that can absolutely transform your world. There's even the science to back up its real time benefits. The rising growth-minded leaders who are making change and expanding their impact on a day to day basis have this figured out, and you can too.
In this episode I share:
The 3 things that create inner calmness every morning in less than five minutes
The scientific benefits of having moments of stillness and documenting gratitude daily
Life-changing results that occur when we don't allow our thoughts to disturb us
What to do when you begin to fall out of your inner calm state
More Resources:
Subscribe on Apple Podcasts for more tips, tools, and inspiration to leading the optimal vision of your life, love, and leadership. Remember, a half version of you is not enough. The world needs the fullest version of you at play.

___
About Rita Hyland
With over 20 years of experience as an executive and leadership coach, Rita helps leaders — emerging and established — excel in corporate and entrepreneurial environments.
Rita believes if leaders were more clear about how transformation really works and more intentional about creating what they want, their impact, success, and influence in the world would be unstoppable.
Through her coaching programs, private coaching, and masterminds, Rita shows leaders how to win consistently and create the impact and legacy they desire.
Central to Rita's work is the understanding that you will never outperform your current programming, no matter how strong your willpower.
When you learn to use Rita's proprietary Neuroleadership Growth Code, a technology which uses the best of neuroscience and transformational psychology to hit the brain's buttons for change, YOU become both the solution and the strategy.
Her mission is to end talented, hard-working, and self-aware leaders spending another day stuck in self-doubt or confusion and not contributing their brilliant work and talent the world so desperately needs.
https://www.ritahyland.com/wp-content/uploads/2021/08/RH-Podcast-Featured-Graphics-78.png
464
440
Candace Maree
https://www.ritahyland.com/wp-content/uploads/2020/04/Rita-Hyland-1-line-blue-NOTAG-01.svg
Candace Maree
2021-08-26 05:00:11
2021-08-26 05:28:43
Maintaining A Calm Inner State When the World Around You Is Not