Redefining How We Measure Accomplishment For Your Ultimate Life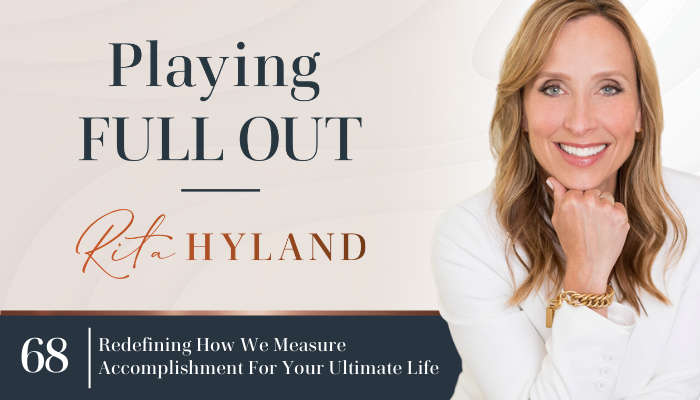 You can listen to the full podcast episode here:
We are all the busiest people we know. Between work and being plugged into our computers and phones 24/7, it's go, go, go all day long with no end in sight. We are a doing-obsessed society. Our programming runs deep. As a result, we often don't ask the right questions and we begin to live passively. While the hustle may look like success on the outside, are we actually accomplishing what we will measure our life on?
When it is all said and done, what is the life that you are intentionally working to create? Perhaps the more important question is, how will you measure it?  The time has come to rethink how we measure our success so that our days reflect the long-term picture we work so hard for.
In this episode I share:
The

momentous

shifts that occur when we redefine a successful life guided by our own design and metrics

How to

expand

your relationship with time from "I have a lack of

time

" to "I have all the time I need"

The top questions to ask yourself to

determine

how you want to

measure

your life 

A

reminder

of where our greatest

joys

come from so that you keep them front and center and

allocate your resources accordingly.  
Join the waitlist for the Bold Leader Life School here. You'll receive first access to details when they are released!
More Resources:
Subscribe on Apple Podcasts for more tips, tools, and inspiration to leading the optimal vision of your life, love, and leadership. Remember, a half version of you is not enough. The world needs the fullest version of you at play.

___
About Rita Hyland
With over 20 years of experience as an executive and leadership coach, Rita helps leaders — emerging and established — excel in corporate and entrepreneurial environments.
Rita believes if leaders were more clear about how transformation really works and more intentional about creating what they want, their impact, success, and influence in the world would be unstoppable.
Through her coaching programs, private coaching, and masterminds, Rita shows leaders how to win consistently and create the impact and legacy they desire.
Central to Rita's work is the understanding that you will never outperform your current programming, no matter how strong your willpower.
When you learn to use Rita's proprietary Neuroleadership Growth Code, a technology which uses the best of neuroscience and transformational psychology to hit the brain's buttons for change, YOU become both the solution and the strategy.
Her mission is to end talented, hard-working, and self-aware leaders spending another day stuck in self-doubt or confusion and not contributing their brilliant work and talent the world so desperately needs.
https://www.ritahyland.com/wp-content/uploads/2021/05/RH-Podcast-Featured-Graphics-68-1.png
464
440
Candace Maree
https://www.ritahyland.com/wp-content/uploads/2020/04/Rita-Hyland-1-line-blue-NOTAG-01.svg
Candace Maree
2021-05-13 06:00:58
2021-05-13 14:04:30
Redefining How We Measure Accomplishment For Your Ultimate Life