Re-Entering Your Old World Without Sacrificing Your Pace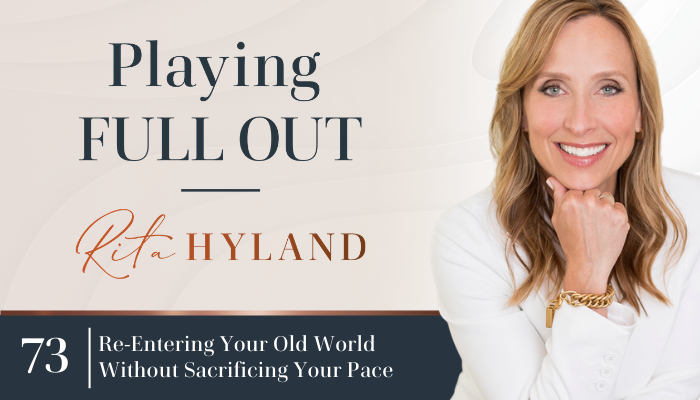 You can listen to the full podcast episode here:
It's finally happening. We are beginning to see the world reopen little by little. While this highly anticipated change is exciting, if you are like many you may also feel some anxiety building as you begin to go back to old routines. Whether it's returning to long hours at the office, sitting frustrated in traffic during your commute, or traveling to sports and activities for your children – busyness is on its way back my friends. But what if you don't want it to be? 
If you have incorporated new habits into your daily routine and found a slower pace over the last 15 months and a better work life balance, you don't have to give that all up. Each of us can choose the pace in which we want to work and live. It's time to take responsibility for designing the life we want and leading others to do the same. Let's do away with the habits of the hurried hustler and instead spend our days with a greater ease, while also being productive and doing our most important work. Embrace this moment as an opportunity for a definitive new beginning. Are you with me?
In this episode I share:
The premise of boiling frog syndrome and how it relates to our current circumstances

Five ideas on how you can return to the world you once knew at a pace of your choosing

How to start the conversation about pace and work life balance with others in your life 

An invitation to hold onto what works for you while also making room for the new

Being a leader who drives change so you are not driven in the wrong direction

An announcement on how I am slowing down this summer to make space in my life
Join the waitlist for the Bold Leader Life School here. You'll receive first access to details when they are released!
More Resources:
Subscribe on Apple Podcasts for more tips, tools, and inspiration to leading the optimal vision of your life, love, and leadership. Remember, a half version of you is not enough. The world needs the fullest version of you at play.

___
About Rita Hyland
With over 20 years of experience as an executive and leadership coach, Rita helps leaders — emerging and established — excel in corporate and entrepreneurial environments.
Rita believes if leaders were more clear about how transformation really works and more intentional about creating what they want, their impact, success, and influence in the world would be unstoppable.
Through her coaching programs, private coaching, and masterminds, Rita shows leaders how to win consistently and create the impact and legacy they desire.
Central to Rita's work is the understanding that you will never outperform your current programming, no matter how strong your willpower.
When you learn to use Rita's proprietary Neuroleadership Growth Code, a technology which uses the best of neuroscience and transformational psychology to hit the brain's buttons for change, YOU become both the solution and the strategy.
Her mission is to end talented, hard-working, and self-aware leaders spending another day stuck in self-doubt or confusion and not contributing their brilliant work and talent the world so desperately needs.
https://www.ritahyland.com/wp-content/uploads/2021/06/RH-Podcast-Featured-Graphics-72-1.png
464
440
Candace Maree
https://www.ritahyland.com/wp-content/uploads/2020/04/Rita-Hyland-1-line-blue-NOTAG-01.svg
Candace Maree
2021-06-17 05:00:03
2021-06-17 07:43:56
Re-Entering Your Old World Without Sacrificing Your Pace