Embracing Fear Without Being Flattened By It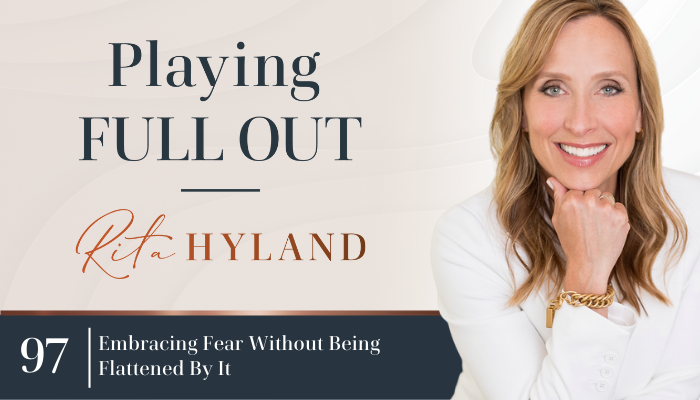 Listen to the full podcast episode to learn how to embrace the fear and open yourself up to the best that life has to offer.
My daughter just returned home after her first year of college. When we first dropped her off, there was so much uncertainty, insecurity, hesitation, and fear. Now, nine months later, she's returned home happy and fulfilled by her experience – even saying she will miss college this summer.
The reason I share this is that nine months ago when we dropped her off, I would never have expected that reaction. That she would have chosen to embrace the fear and open herself up to the full experience. This really got me thinking about fear and how much our attachment to certainty and getting it right can limit us from having deeply satisfying and rewarding experiences.
How easy is it to not want to move forward to embrace the fear and instead clutch onto what we already know?
Here I was seeing through my daughter exactly what happens when we face fear, embrace fear, and ultimately overcome fear. What if she hadn't been brave? What if she hadn't faced her fear?  What would she have missed? 
Early on, in my work with men and women, I started to see some very clear patterns in the ways talented individuals were stalling on their way to their goals and desires. 
Oftentimes, their attempts to avoid situations that might be uncertain were unconsciously disguised by being busy, over-preparing, or refining their work. In short, they were hesitating because of their fear.
Ultimately, it became impossible to innovate, share controversial ideas or effect the change they wanted. 
But something profoundly human and magical happens when fear is exposed and the root cause is addressed. When we simply acknowledge that this is fear, I'm afraid, and that I'm going to do it anyway, fear's power is diminished and this is what it truly means to embrace the fear.
Here's what you need to remember: You are never going to eliminate fear. But you can be curious about it,  acknowledge it, and have a go-to process to embrace the fear and move through it instead of being flattened by fear. 
Bottom line: Without facing fear, your success is impossible.
Even top achievers are afraid.
Warren Buffet was terrified of speaking in public.
Joanna Gaines couldn't choose a paint color on her first episode of Fixer Upper and felt like an imposter.
Singer, Adele, was known for getting sick before performing live.
These are successful, ambitious, capable people who admit to still being afraid but face the fear and do it anyway.   
The good news: you can change your relationship to fear and allow this to be the end of avoiding situations that might bring it.
Tune in to this episode of Playing Full Out to learn the process of embracing fear and creating your most satisfying and rewarding present and future. 
In this episode I share:
How attachment to certainty and getting it right is showing up in your life right now

Two practical tools you can use day to day so that you can

move beyond fear strategically and not go on an emotional roller coaster

Life-changing moments for me that were full of fear and uncertainty 

How to find evidence of the direct connection between your life's best moments so far and facing your fears
Resources and related episodes:
Subscribe on Apple Podcasts for more tips, tools, and inspiration to leading the optimal vision of your life, love, and leadership. Remember, a half version of you is not enough. The world needs the fullest version of you at play.

___
About Rita Hyland
With over 20 years of experience as an executive and leadership coach, Rita helps leaders — emerging and established — excel in corporate and entrepreneurial environments.
Rita believes if leaders were more clear about how transformation really works and more intentional about creating what they want, their impact, success, and influence in the world would be unstoppable.
Through her coaching programs, private coaching, and masterminds, Rita shows leaders how to win consistently and create the impact and legacy they desire.
Central to Rita's work is the understanding that you will never outperform your current programming, no matter how strong your willpower.
When you learn to use Rita's proprietary Neuroleadership Growth Code, a technology which uses the best of neuroscience and transformational psychology to hit the brain's buttons for change, YOU become both the solution and the strategy.
Her mission is to end talented, hard-working, and self-aware leaders spending another day stuck in self-doubt or confusion and not contributing their brilliant work and talent the world so desperately needs.
https://www.ritahyland.com/wp-content/uploads/2022/05/embrace-the-fear-playing-full-out-Rita-Hyland.png
464
440
Guia Gorospe
https://www.ritahyland.com/wp-content/uploads/2020/04/Rita-Hyland-1-line-blue-NOTAG-01.svg
Guia Gorospe
2022-05-26 05:00:42
2023-01-20 15:24:23
Embracing Fear Without Being Flattened By It