A 10-Minute Challenge To Uncover What You Stand For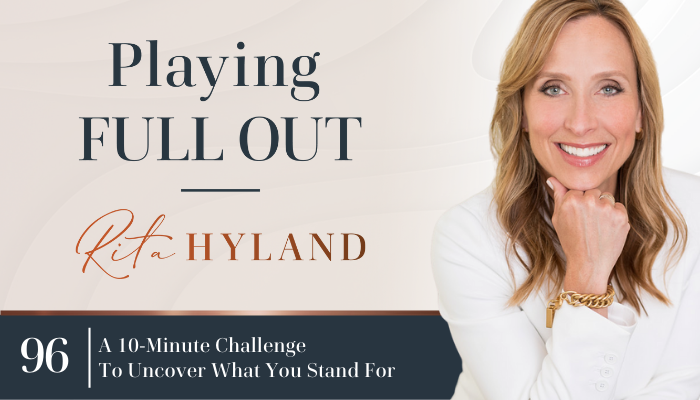 Listen to the full podcast episode to hear how to uncover what you stand for:
Years ago, I spent a month volunteering at a battered and abused women's shelter. This shelter was a hidden house where women and their children could safely escape if they were experiencing abuse in their homes. 
During my time there, I was responsible for the administration of women and children – their operational needs in the home and things like that. There were specific situations that I saw these women and their children go through, that were absolutely heartbreaking. 
Several of the women came to me asking for help. This led me to do a lot of things that were not in line with protocol. I met with them privately on the weekends helping them to create their resumes, look for jobs, and tend to other personal issues.
From the experience, I realized I wanted to be in a position to do something about what I had witnessed – for those around me and for those in similar situations in the future.
That experience crystallized something for me: I wanted to help empower individuals to build the work and lives they were capable of but didn't know how to start. I wanted to help them tap into the reserves of power they had but didn't know how to unleash. 
Ten years later, I began a business to elevate individuals to build their life-changing work and design lives that they love. While I didn't realize it at the time I was at the shelter, I had taken a stand. It made me courageous.
I now know that taking a stand generates a surge of clarity, energy, and freedom.  It gives purpose to our work and lives. Everything truly great and special that was ever created all began with a stand.
Malala's stand is that all girls and women have a right to an education.  
Martin Luther King Jr. stood for the equal treatment of all individuals, regardless of race.
Present Zelensky's stand is for the sovereignty of Ukraine.
So, what about you? What is really important to you as you lead your life and community? This is a simple, yet very significant question. 
When you know what is important to you, what you stand for, and your days reflect it, anxiety, depression, and loneliness diminish, and energy and freedom surge. 
If you aren't yet sure what you stand for, don't worry.  I have a no-nonsense formula in my arsenal of tools to help you recall what it is that you stand for, or identify it for the very first time.
In this episode on uncovering what you stand for, I share:
3 questions to ask yourself that will help you identify what you stand for

A critical distinction that will allow you to see strategies and opportunities that you haven't seen before

Real-life examples of what taking a stand looks like in your personal world and professional world that will give you the momentum to uncover yours

The surefire way to know that you are taking a stand
More Resources:
Subscribe on Apple Podcasts for more tips, tools, and inspiration to leading the optimal vision of your life, love, and leadership. Remember, a half version of you is not enough. The world needs the fullest version of you at play.

___
About Rita Hyland
With over 20 years of experience as an executive and leadership coach, Rita helps leaders — emerging and established — excel in corporate and entrepreneurial environments.
Rita believes if leaders were more clear about how transformation really works and more intentional about creating what they want, their impact, success, and influence in the world would be unstoppable.
Through her coaching programs, private coaching, and masterminds, Rita shows leaders how to win consistently and create the impact and legacy they desire.
Central to Rita's work is the understanding that you will never outperform your current programming, no matter how strong your willpower.
When you learn to use Rita's proprietary Neuroleadership Growth Code, a technology which uses the best of neuroscience and transformational psychology to hit the brain's buttons for change, YOU become both the solution and the strategy.
Her mission is to end talented, hard-working, and self-aware leaders spending another day stuck in self-doubt or confusion and not contributing their brilliant work and talent the world so desperately needs.
https://www.ritahyland.com/wp-content/uploads/2022/05/RH-Podcast-Featured-Graphics-96-1.png
464
440
Candace Maree
https://www.ritahyland.com/wp-content/uploads/2020/04/Rita-Hyland-1-line-blue-NOTAG-01.svg
Candace Maree
2022-05-05 05:00:09
2023-01-21 15:15:50
A 10-Minute Challenge To Uncover What You Stand For