3 Steps To Move You From Exhausted To Energized As You Serve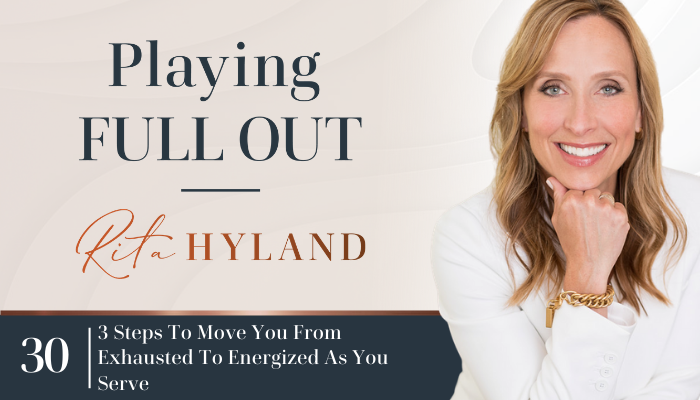 You can listen to the full podcast episode here:
There's this thing that some leaders do that ultimately prevents them from growing their impact and building something great. They avoid serving more people because they feel they may not be able to handle the increase.  It's the mindset of "more clients equals more time and responsibility, which leads to exhaustion". In short, they fear that expanding their leadership and serving more people will deplete them. Here's the secret: leadership is NOT meant to be exhausting IF you are doing it the right way. In fact, when done correctly, it's energizing.
Maybe you want to build something that makes a difference in the world, but you already feel tired and busy.  If the thought of scaling concerns you, I bet you're not exhausted for the reasons you think. Leading and serving isn't what's exhausting. It's the concern, fear, and worry you lead from. 
At the end of the day we know that happy energized leaders create masterpieces.   Exhausted leaders do not.
If you or your business are drowning or you are looking for your spark to return, there is a way to turn it around. 
In this episode, you'll learn:
What

leading

really means and why so few self-identify as leaders

Why worrying about how to help many more people isn't getting you anywhere

THE question for an instant business turnaround  

How leading with love becomes a business strategy

How to expand your service and impact without worry or exhaustion in 3 steps
Resources:
Check out last week's episode,

The Real Reason You Aren't Increasing Your Clients,

 here

.

Connect with me on Instagram @rita_hyland_coaching
Subscribe on Apple Podcasts for more tips, tools, and inspiration to leading the optimal vision of your life, love, and leadership. Remember, a half version of you is not enough. The world needs the fullest version of you at play.

___
About Rita Hyland
With over 20 years of experience as an executive and leadership coach, Rita helps leaders — emerging and established — excel in corporate and entrepreneurial environments.
Rita believes if leaders were more clear about how transformation really works and more intentional about creating what they want, their impact, success, and influence in the world would be unstoppable.
Through her coaching programs, private coaching, and masterminds, Rita shows leaders how to win consistently and create the impact and legacy they desire.
Central to Rita's work is the understanding that you will never outperform your current programming, no matter how strong your willpower.
When you learn to use Rita's proprietary Neuroleadership Growth Code, a technology which uses the best of neuroscience and transformational psychology to hit the brain's buttons for change, YOU become both the solution and the strategy.
Her mission is to end talented, hard-working, and self-aware leaders spending another day stuck in self-doubt or confusion and not contributing their brilliant work and talent the world so desperately needs.
https://www.ritahyland.com/wp-content/uploads/2020/08/RH___Podcast_Featured_Graphics.png
464
440
Sara Whittaker
https://www.ritahyland.com/wp-content/uploads/2020/04/Rita-Hyland-1-line-blue-NOTAG-01.svg
Sara Whittaker
2020-08-20 06:00:47
2020-08-20 00:14:28
3 Steps To Move You From Exhausted To Energized As You Serve