Two Essential Questions To Deliver (And Radiate) World-Class Care To Those You Serve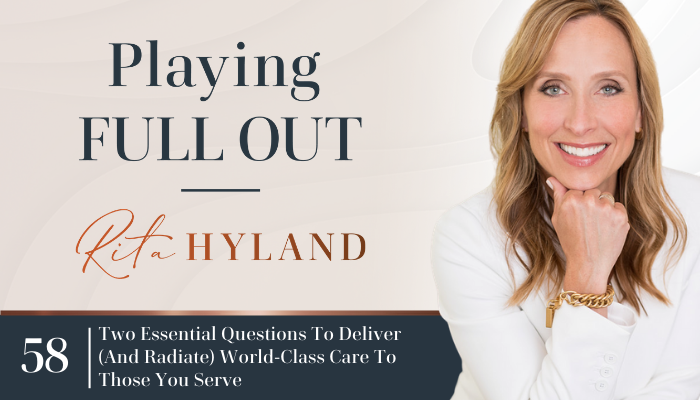 You can listen to the full podcast episode here:
This week I'm coming to you after spending a weekend in the breathtaking Smoky Mountains where we spent our days outdoors soaking up all that nature had to offer. The experience I had at this destination hotel was unlike any I've had before. Indeed the amenities, views and services left me in awe. But that wasn't what differentiated this experience from other destinations. It was the people and how they made me feel. The staff radiated genuine joy, ease, kindness, and care.  As a result, I became a raving fan.
As business owners, leaders, spouses, and parents, it isn't what we do for those we serve, as much as how we make them feel when we do it.  We don't always realize it, but our energy is always projecting onto those around us. With that understanding comes great power and the realization that we can also provide world-class service and experiences for those we serve and lead. Today I want you to consider what you radiate when you walk into a room. How do people feel when they are with you and how is that affecting your business and your key relationships?
In this episode, I share:
A recent personal example of my experience with the butterfly effect 

The 4 parts of a mission statement and how to go deeper with your own mission

2 questions to deliver a world-class experience for those you serve 

Strategies to get clear and deliberately choose how you will make others feel  

A reminder that who you are being matters while you do what you do
Join the waitlist for the Bold Leader Life School here. You'll receive the first access to details when they are released!
More Resources:
Subscribe on Apple Podcasts for more tips, tools, and inspiration to leading the optimal vision of your life, love, and leadership. Remember, a half version of you is not enough. The world needs the fullest version of you at play.

___
About Rita Hyland
With over 20 years of experience as an executive and leadership coach, Rita helps leaders — emerging and established — excel in corporate and entrepreneurial environments.
Rita believes if leaders were more clear about how transformation really works and more intentional about creating what they want, their impact, success, and influence in the world would be unstoppable.
Through her coaching programs, private coaching, and masterminds, Rita shows leaders how to win consistently and create the impact and legacy they desire.
Central to Rita's work is the understanding that you will never outperform your current programming, no matter how strong your willpower.
When you learn to use Rita's proprietary Neuroleadership Growth Code, a technology which uses the best of neuroscience and transformational psychology to hit the brain's buttons for change, YOU become both the solution and the strategy.
Her mission is to end talented, hard-working, and self-aware leaders spending another day stuck in self-doubt or confusion and not contributing their brilliant work and talent the world so desperately needs.
https://www.ritahyland.com/wp-content/uploads/2021/03/RH-_-Podcast-Featured-Graphics-58-1.png
464
440
Candace Maree
https://www.ritahyland.com/wp-content/uploads/2020/04/Rita-Hyland-1-line-blue-NOTAG-01.svg
Candace Maree
2021-03-04 12:16:15
2021-03-05 10:18:31
Two Essential Questions To Deliver (And Radiate) World-Class Care To Those You Serve