Concrete Strategies For Reducing Judgment To Improve Your Life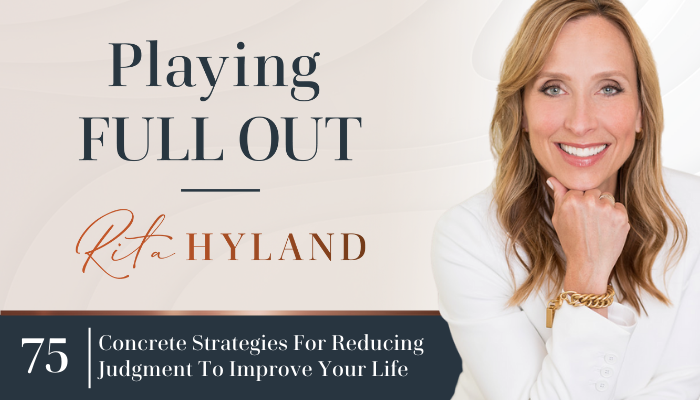 You can listen to the full podcast episode here:
Think back to the last time you cast judgment on another. Maybe it was against your spouse, friend, coworker, boss, or even a stranger on the street. Did you then go to someone else and justify that judgment? How did you feel after doing so? At peace? Likely not. 
Despite our assumptions, peace of mind is never the byproduct of judgment. I know because I've learned that lesson the hard way in my corporate career. I realized that my judgment against my company's decisions was keeping me from getting what I wanted. It wasn't my company's fault at all, but my own. Oh boy, was that freeing. Once I wiped out my judgment, I immediately became happier in my role and made the advancements that I had been working towards. 
When we judge others, we are killing our connection to them. It leads to feelings of resentment, confusion, and guilt. It is an act that can destroy a relationship in the blink of an eye, and half of the time we don't even know that we're doing it. The truth is, being nonjudgmental is tough. It is something that requires self-awareness and practice. Understanding what judgment is REALLY about will help us to transform it and release it. Only then can we really thrive in our relationships and step into the role of the bold fulfilled leaders we're meant to be. 
My call to you is not to completely eliminate judgment altogether, but to simply notice when it's happening and reduce the amount of time we sit in it. Do that, and I guarantee your performance will increase and your impact will amplify.
In this episode I share:
How to know when you're in a judgment zone 

The REAL reason that we judge others

Thoughtful ways to release your judgments before it causes harm

The exact steps to take if you are being judgmental 

Why we must be aware of our intentions

The crucial difference between judgment and discernment
Join the waitlist for the Bold Leader Life School here. You'll receive first access to details when they are released!
More Resources:
Subscribe on Apple Podcasts for more tips, tools, and inspiration to leading the optimal vision of your life, love, and leadership. Remember, a half version of you is not enough. The world needs the fullest version of you at play.

___
About Rita Hyland
With over 20 years of experience as an executive and leadership coach, Rita helps leaders — emerging and established — excel in corporate and entrepreneurial environments.
Rita believes if leaders were more clear about how transformation really works and more intentional about creating what they want, their impact, success, and influence in the world would be unstoppable.
Through her coaching programs, private coaching, and masterminds, Rita shows leaders how to win consistently and create the impact and legacy they desire.
Central to Rita's work is the understanding that you will never outperform your current programming, no matter how strong your willpower.
When you learn to use Rita's proprietary Neuroleadership Growth Code, a technology which uses the best of neuroscience and transformational psychology to hit the brain's buttons for change, YOU become both the solution and the strategy.
Her mission is to end talented, hard-working, and self-aware leaders spending another day stuck in self-doubt or confusion and not contributing their brilliant work and talent the world so desperately needs.
https://www.ritahyland.com/wp-content/uploads/2021/07/RH-Podcast-Featured-Graphics-74.png
464
440
Candace Maree
https://www.ritahyland.com/wp-content/uploads/2020/04/Rita-Hyland-1-line-blue-NOTAG-01.svg
Candace Maree
2021-08-05 05:00:16
2021-07-26 12:47:53
Concrete Strategies For Reducing Judgment To Improve Your Life