What if right now is your prime time?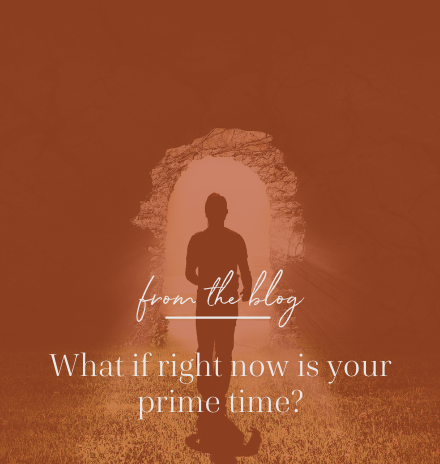 This time of year, I often take a few days to myself for solitude, silence, and stillness. I recently did this in a small fixer-upper house of Chip and Joanna Gaines in McGregor, Texas. I tied it into a scheduled hockey tournament for my son and a visit with my daughter who is attending her first year of college. I make it a point to regularly schedule time alone so I have the energy for my robust personal life.
I love these quiet moments. They allow me to regenerate and take a rest from the noisy world. I always walk away with raised creativity, energy, and happiness and increased productivity once I return.
In this particular period of solitude, I came away more aware than ever that I will eventually die. Now that may sound morbid, but it wasn't like that. It invigorated me. What I mean is that I know things can and will change and that right now I'm perfectly planted with power and capabilities much larger than I've acknowledged.
The thing is I know I'm not unique in that way.
I recently saw the movie, American Underdog, which is based on the life story of Kurt Warner. Kurt went undrafted after he left college, but was given a second chance by the Green Bay Packers only to be painfully cut after being told he wasn't ready for the opportunity.
He took a job stocking grocery shelves. Then several years later after playing arena football, he got another shot to realize his dream of becoming an NFL football player with the LA Rams (timely as the LA Rams play in the Super Bowl today).
In the movie, Coach Mike Martz of the LA Rams asks Kurt why a team worth eight hundred million dollars should put him in the driver's seat at his age? "You're too old to be an amateur, too green to be a pro. So why in the world should I give you this shot?"
Kurt Warner responds, "I was meant for something. Something more. I wasn't ready for it then, but I am now. I waited for it. I bled for it. I know who I am. And I know why I'm here. If you give me a chance I will not let you down."
Maybe you have a dream you haven't realized yet. Maybe there's something that didn't work out the first time around or even the second but you can't shake it as much as you would like to. Maybe there's something you've never done before that you really want to do, but you feel like you're too old or too green for it.
It's important to understand that if it didn't happen before, it simply means you weren't ready for it then. Maybe you are now. You aren't the same person you were then, right? You've been tested. You're stronger. You're wiser. And you know who you are now. What if right now is your prime time?
That first year with Kurt Warner as their quarterback, the LA Rams went on to win Super Bowl XXXIV where Kurt threw the most passing yards in a Super Bowl, breaking Joe Montana's passing record. He was also named Super Bowl MVP and League MVP, making him the first undrafted player to be named either of those in NFL history.
Kurt's story reminded me that it's never too late to authentically be who we are and show up fully to why we are here.
So what is your dream for the next half? What are you the 'Kurt Warner' of? What is your metaphorical Super Bowl? In what area are you perfectly planted with power and capabilities much larger than you've acknowledged or owned up until now?
These are questions that you need to answer because without doing so you miss your purpose and mission as a human leader to serve and elevate others.
The message is: begin now. Don't wait. Stop doubting or talking yourself out of it. Be open to the possibility that your dream – or something better – is coming. You can see it and feel it in the silence. It's there that your next steps will be revealed.
But here's the thing: you must show up.
In a world where distraction destroys your focus, interruption zaps your peace, and too often devices dominate your days, you must return to solitude and stillness to revive your energy, clarity, and productivity.
That's because execution matters. The small systematic rituals done day in and day out along with self-discipline, commitment, courage, and the integrity that Kurt Warner had will pay off. Your personal Super Bowl may be closer than you think.
Get on with it. You don't have forever. Hold onto your dreams along with the commitment to execute even when things don't always work out. I'm confident you'll win your Super Bowl… or something better.
Cheering for you enthusiastically,
~Rita
https://www.ritahyland.com/wp-content/uploads/2022/05/RMJ-Newsletter-02_2022.png
464
440
Guia Gorospe
https://www.ritahyland.com/wp-content/uploads/2020/04/Rita-Hyland-1-line-blue-NOTAG-01.svg
Guia Gorospe
2022-05-14 13:06:02
2022-05-22 04:12:16
What if right now is your prime time?