How To Hire a Strong Coach In Your Corner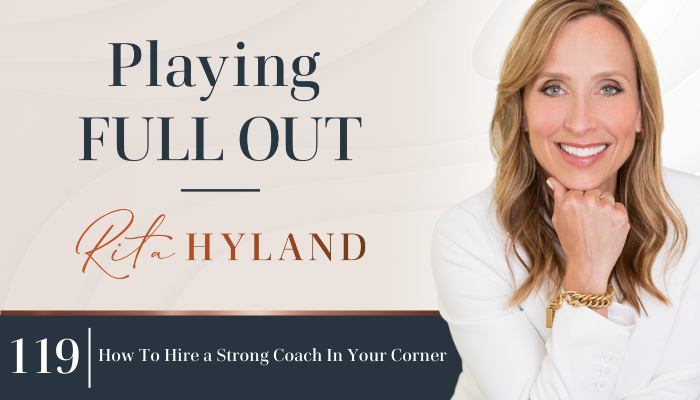 Listen to the full podcast episode to learn about the science-backed practice that has not only changed my life but also the lives of countless people over the last two decades. This is something you can't ignore if you want to achieve that great goal you identified for this year and write your new future.
Do you feel like life is going too fast? Are you tolerating things?  Perhaps you're going through a transitional phase, or, as a leader, you understand more than ever that it's lonely at the top.
Imagine how great it would feel to have someone by your side, offering support, and lifting some of that weight off your shoulders. No matter who you are and what stage of your career, business, or life, every one of us deserves to have a strong coach in our corner.
In this episode, I'm sharing what it's like to receive professional coaching when it's a good time to hire a coach, and how to identify a strong coach that's right for you. I'm giving you the gritty and remarkably relevant information you need to know and what those driven to excel are doing differently, so you can achieve your own success. 
Not all coaches are the same.
With varying levels of experience, expertise, methodologies, and styles, the sheer number of options can sometimes feel overwhelming. However, the one common goal shared by all coaches is to help you achieve results more efficiently and with less difficulty than if you were doing things on your own.
When looking for the right coach, knowing what results you want from the process is imperative to determine which type of coach you need.
The Business Coach
A business coach helps you set goals, identify opportunities, and grow your business. Unlike a consultant or boss, a coach holds you accountable and draws out your expertise, experience, and insights. They enable you to see beyond the day-to-day tasks to better understand your business.
The Health Coach
A health coach helps you achieve greater energy and vitality. They assist in developing a strategy for optimal health and hold you accountable. There are various subsets within this category, such as weight coaches and strength coaches, so clarity about your specific goals will make it easier to identify the right health coach for you.
The Personal Life Coach
A life coach is dedicated to helping you overcome both visible and invisible limitations. They assist in increasing self-awareness and eliminating repetitive self-sabotaging patterns or blind spots holding you back. The goal of a personal life coach is to align your life with your priorities, ensuring that all areas of your life are in balance. 
The Leadership Coach
A leadership coach helps you develop the skills to stay motivated, even in challenging times, and positively influence those around you. Personal life coaching and leadership are interconnected because you can't lead beyond who you are. The extent to which you expand yourself and increase self-awareness directly correlates with your leadership growth, enabling you to support others in reaching higher performance levels.
So, what exactly does a strong coach do?
Coaches are guides to help bring forth your wisdom, your expertise, your existing levels of intelligence, and the resources you already have. They help you achieve higher-level results with less pain and in less time than if you did it alone. Strong coaches engage you in a way that encourages you to show up as a higher version of yourself, to think bigger, and to unleash your potential.
There are five qualities of a strong coach:
They focus on and get real results for their clients.

They support and challenge you in equal measure.

They listen and ask questions that evoke new ideas and expose opportunities you wouldn't have otherwise.

They have their own coach and continue to grow themselves.

They reflect you accurately, rather than project themselves and their own values onto you. 
The most important criteria for finding the right coach is not who has the most training, certifications or the most followers but who is the best fit for you.
To start your search, reach out to your place of work or ask others if they've worked with a coach. When conversing with a coach, ask questions about their methodology or style to determine if it aligns with your goals. Do they meet in the way you want to meet? Do they have one-on-ones or group coaching? Who is their ideal client?
How to know it's a good time to hire a coach:
You feel stuck.

Some category of your life is off, and you can't progress using the same means as you have in the past.

You're ready to get to the next level.

You're already successful but want to elevate or expand your abilities.

You're in a position of leadership.

You need new ideas, thoughts, perspectives, and someone to challenge you.

You're in a transitional period.

This can be a divorce, a birth, a death, or a number of things.

You want to change a specific area of your life.

This can be a habit or something that is holding you back.

You're experiencing burnout.

The way you live isn't sustainable, or you're indecisive and unable to take action.

Fear is getting the better of you.

It's thwarting you and not allowing you to move forward.
Many believe they should be able to do everything on their own. However, this mindset can be a hindrance to personal growth and fulfillment. Putting yourself into a silo limits progress, enjoyment, and overall experience. Our brains often resist change and uncertainty, leading us to believe that things won't work out. To overcome this, we must ask ourselves, "What if it did work out?" and explore the potential positive outcomes to move past stagnation and allow ourselves to move forward.
Hiring the right coach for you can be one of the most rewarding and life-changing experiences. Let this be the year you come alive and think bigger about yourself and what you have to add to every aspect of your life.
In this episode, I share:
What it's like to receive professional coaching and how to determine which type of coach you need to achieve your goals

The five characteristics of a strong coach and the #1 criteria for choosing the best coach for you

The significant signs that it's time to hire a coach and how you can overcome the mental block of needing to do everything on your own
Resources and related episodes:
Subscribe on Apple Podcasts for more tips, tools, and inspiration to lead the optimal vision of your life, love, and leadership. Remember, a half version of you is not enough. The world needs the fullest version of you at play.

___
About Rita Hyland
With over 20 years of experience as an executive and leadership coach, Rita helps leaders — emerging and established — excel in corporate and entrepreneurial environments.
Rita believes if leaders were more clear about how transformation really works and more intentional about creating what they want, their impact, success, and influence in the world would be unstoppable.
Through her coaching programs, private coaching, and masterminds, Rita shows leaders how to win consistently and create the impact and legacy they desire.
Central to Rita's work is the understanding that you will never outperform your current programming, no matter how strong your willpower.
When you learn to use Rita's proprietary Neuroleadership Growth Code, a technology that uses the best of neuroscience and transformational psychology to hit the brain's buttons for change, YOU become both the solution and the strategy.
Her mission is to end talented, hard-working, and self-aware leaders spending another day stuck in self-doubt or confusion and not contributing their brilliant work and talent the world so desperately needs.
https://www.ritahyland.com/wp-content/uploads/2023/06/RH-Podcast-Featured-Graphics-119.png
464
440
Guia Gorospe
https://www.ritahyland.com/wp-content/uploads/2020/04/Rita-Hyland-1-line-blue-NOTAG-01.svg
Guia Gorospe
2023-06-08 05:00:07
2023-06-26 15:33:11
How To Hire a Strong Coach In Your Corner