Your Mindset Management Practice For Higher Performance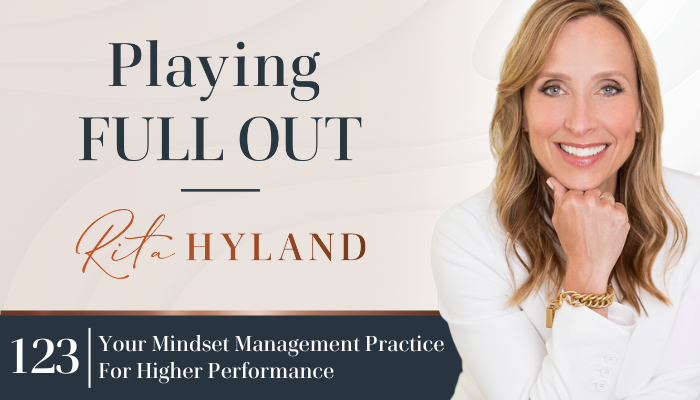 Listen to the full podcast episode to learn about the science-backed practice that has not only changed my life but also the lives of countless people over the last two decades. This is something you can't ignore if you want to achieve that great goal you identified for this year and write your new future.
Many of us place a lot of pressure on ourselves to perform extraordinarily every day.  But there's something important we're missing.  We don't prioritize training our mindset to perform at those extraordinary levels.
When we know that how we think determines how we react to things, it becomes our #1 priority to manage our thoughts.  Not doing so is like setting out to build a house with a sand shovel.  We wouldn't do it.
We expect to experience worry-free, confident, high-performing days but we're either unaware of how to leverage our mindset or we lack the discipline to manage our mindset for the high-performance we expect. 
As a result, too often our sloppy, unmanaged thoughts leave us feeling… stressed that we can't get it all done, doubting we have what it takes to deliver, critical and short with others, exhausted by what we see as limited progress and second-guessing we will see our existing success to fruition. 
Recently my family and I watched several Netflix documentaries about seasoned sports players and teams. They highlighted the strengths and vulnerabilities of athletes in a variety of sports—golf, basketball, football, etc. I am always fascinated by the psychological performance and rituals that these top-performing athletes practice to perform at such high levels.
They know that how we think about things drives our behavior. That performing extraordinarily begins with having a high-performance mindset. So they place a premium on their mindset management. 
It got me thinking —  why is it that those of us in other industries don't place that same level of attention on our mindset management? Why do leaders in other industries not apply that same level of consistency and discipline to their mindsets that athletes do?  
Messy, unbridled mindsets too often leave us feeling… 
Stressed over endless to-do lists

Wondering if we have what it takes to achieve our goals

Exhausted and burnt-out because the pressure is high and progress is slow

Unfocused because we're trying to do too much at a high level
These feelings result in average performance — at best!
So what can be done to develop a high-performance mindset?  
Here's a favorite short mindset management practice that you can use daily to set yourself up for success. The best part is that it can be done in less than five minutes. 
Each prompt has a specific benefit backed by brain science to help you improve your well-being and performance. 
It's what high-performing athletes and modern day leaders use to show up and perform their best every day when it matters most.
Managing our mind isn't something we can only employ some of the time. Everyday we face unexpected challenges and things outside of our control.  This is when being able to manage our thoughts becomes invaluable.
Here's how to do your 5-minute Morning Mindset Management Practice.
Ask and answer each of the following five prompts.
What are 3 things I'm grateful for?

Sitting in the answer to this question directly affects the hypothalamus. The hypothalamus is a part of the brain that influences sleep, hunger, and stress. When brains were studied while a subject was experiencing gratitude, they found the subject's hypothalamus was being influenced in real-time. When you are focusing on what you're grateful for, you create new neural pathways for expansion and advancement.

What 3 things would make today great?

From a scientific perspective, this activates your brain's Reticular Activating System or RAS. What happens is when you direct your RAS for what to look for, it sets out to find it — without you even being aware of it. You've likely experienced when you've decided to buy a certain car and suddenly you see the car is everywhere.  There was a famous study in the NBA on basketball players who weren't hitting their free throw shots. The underperforming athletes were broken into three groups. The first group did not practice their free throws for a week. A second group was told to practice exactly 100 free throw shots every day. And a third group was told not to physically practice but to imagine perfect free throw shots every day. The third group, which only imagined hitting shots perfectly,  improved their performance the most. The brain receives 11 million bits of information per second, but it can only process 33 bits per second. The 33 it processes are the 33 it is told to look for.  It seeks to fill your order. 

Who am I going to be today?

Think: Who do I need to

be

in order to

perform

as I want? We typically make to-do lists. But the doing is directly influenced by who we're showing up as. Your way of being informs the actions you will take so you can perform at the level you want. So what qualities are you going to bring to your day? It's the Be — Do — Have model of performance that high-performers use. Many of us were taught that doing is where performance comes from, but in reality it's your identity which is a reflection of your thoughts and ways of being that directs and does the heavy lifting. 

What am I open to receiving?

Too often we don't realize that we really are not open to accepting what it is we say we want. Remember change is uncertain and that can be uncomfortable to our mind.  By answering this prompt, you prepare your mindset to notice and accept the opportunities before you. 

What am I going to give?

Maintaining the flow between giving and receiving is critical. Living a purpose-driven life is important to us all. We all want to matter. By clarifying what you will contribute, you align yourself with your purpose, passion and proficiency. In turn, you make a difference.
What happens when you learn to manage your mindset? You will…
Have the

endurance

necessary for big challenges and initiatives

Be able to

navigate unexpected challenges

 

Improve your ability to

handle criticism

which you will definitely encounter as a result of being in the arena 

Executing tasks

easier because you're not dealing with limiting thoughts

Focus on the most important things

 

Managing problems

and know when to let of anything that's out of your control
High performance begins with self-awareness.
Our feelings and actions are directly impacted by our thoughts. Your mindset management practice is too important to leave to chance! It drives everything you do.
Don't spend another day putting pressure on yourself to perform extraordinarily without providing yourself with the mindset that sets you up for success. 
In this episode, I share:
What the sports industry and high-achieving athletes can teach us about mindset management and performance

What's keeping us from performing at the levels we think we "should" be able to

A 5-minute morning mindset management practice every leader can use to see immediate improvement in well-being and performance 
Resources and related episodes:
Connect with Rita on LinkedIn
Subscribe on Apple Podcasts for more tips, tools, and inspiration to lead the optimal vision of your life, love, and leadership. Remember, a half version of you is not enough. The world needs the fullest version of you at play.

___
About Rita Hyland
With over 20 years of experience as an executive and leadership coach, Rita helps leaders — emerging and established — excel in corporate and entrepreneurial environments.
Rita believes if leaders were more clear about how transformation really works and more intentional about creating what they want, their impact, success, and influence in the world would be unstoppable.
Through her coaching programs, private coaching, and masterminds, Rita shows leaders how to win consistently and create the impact and legacy they desire.
Central to Rita's work is the understanding that you will never outperform your current programming, no matter how strong your willpower.
When you learn to use Rita's proprietary Neuroleadership Growth Code, a technology that uses the best of neuroscience and transformational psychology to hit the brain's buttons for change, YOU become both the solution and the strategy.
Her mission is to end talented, hard-working, and self-aware leaders spending another day stuck in self-doubt or confusion and not contributing their brilliant work and talent the world so desperately needs.
https://www.ritahyland.com/wp-content/uploads/2023/10/RH-Podcast-Featured-Graphics-123.png
464
440
Guia Gorospe
https://www.ritahyland.com/wp-content/uploads/2020/04/Rita-Hyland-1-line-blue-NOTAG-01.svg
Guia Gorospe
2023-10-05 05:00:51
2023-10-18 16:50:55
Your Mindset Management Practice For Higher Performance